So I got SG-View up and running and realized that my spr5000x/GT 5.0 inverter was reaching very high temps (the day I started watching, it was about 95 deg ambient and the inverter hit 165 and climbing before I intervened with a small fan.) Later days when it was cooler out and no fan the temps regularly hit 150-160.
So I decided to install a fan setup - I scavenged a panel fan assy from an analyzer bench at work that was getting scrapped, and wired that to a Ranco thermostatic controller that I mentioned in my other post (about $50 on ebay or about $60 through the mfg.). I placed the thermistor up high in the cooling fins with some metal tape and thermal grease, and it tracks about 2-3deg cooler than what SG-View reports when the temps are stable.
[/img]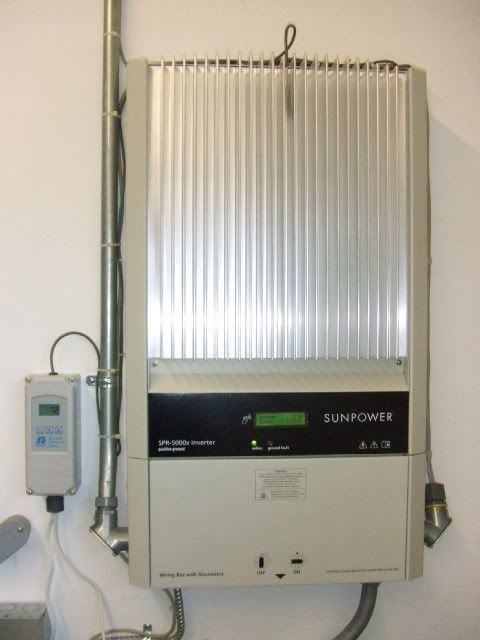 [/img]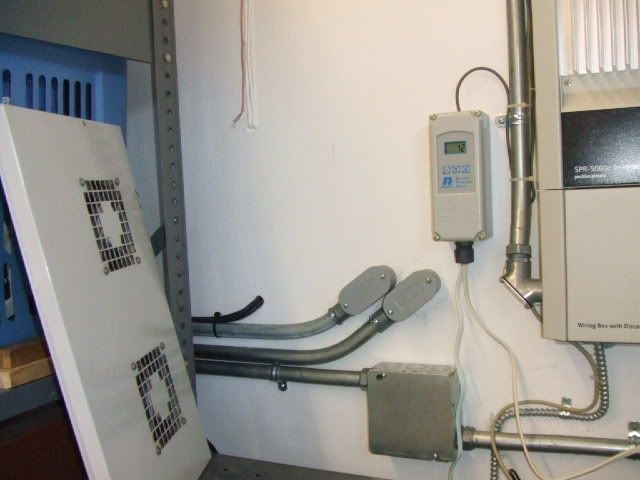 When there is a rapid change in inverter temp, the Ranco can fall behind as much as 8 deg - it seems that the thermistor in the inverter is very quick to change, whereas the heat needs to make it out to the fins before the Ranco thermistor can detect it and there is some time lag there, as well. I think this could be improved if the thermistor could be placed directly on the base of the heat sink, but it might be hard to get it affixed there with metal tape.
Anyway, it seems to be good enough for this ap. I set the Ranco ON temp to 130F with a 2deg deadband. Yesterday, we had moderate outside temps and breezy so very good solar harvest and the inverter was working hard and making some heat; the high inverter temps on SG-View were cycling right at 138-140 as the cooling fan came on and off over a 3 hour period.
I am running one (the topmost) fan now on the 2-fan panel, and as you can see I still need to clean up the wiring a bit and I'm planing to mount the fan(s) onto the storage rack in the photo and lose the metal panel. But for now, its doing the job. Thanks for all the advice everyone, and extra props to Solar Guppy for making this website and the excellent SG-View available!